Virtual Outbound Collaboration for Disability Employment in Uganda
Published: Oct 14, 2023
Country: Uganda
Dr. Wendy Parent-Johnson's Fellowship Experience
Dr. Wendy Parent-Johnson is a US Outbound Fellow in the FY2021 Professional Fellows Program (PFP) on Inclusive Civic Engagement. This program is sponsored by the US Department of State's Bureau of Educational and Cultural Affairs and is administered by the Institute for Community Inclusion (ICI) at the University of Massachusetts Boston in partnership with Humanity and Inclusion (HI). The following blog post was contributed by guest author Dr. Wendy Parent-Johnson.
Between July and August 2023, Dr. Wendy Parent-Johnson, Director of the Rehabilitation Research and Training Center (RRTC) and Professor in the Department of Counseling and Special Education at Virginia Commonwealth University (VCU), conducted a fully virtual Outbound Fellowship. The purpose was to provide technical assistance to her colleague Harunah Damba and his team at United Persons with Disabilities (UPWD) Uganda for a project focused on increasing the employability of graduates with disabilities.
Harunah Damba, who is the Chairperson of UPWD, had previously completed a four-week Inbound Fellowship at the Sonoran Center for Excellence in Disabilities at the University of Arizona. Wendy served as the Director of the center until August 2023, after which she joined VCU. During his time at the Sonoran center, Harunah developed a project to enhance employment opportunities for graduates with disabilities by involving them in Twezimbe Uganda, a savings and credit co-operative society (TUGAD-SACCO). Through this project, Harunah equips college students with disabilities with the necessary skills for job searching, entrepreneurship, and financial literacy. By integrating them into the SACCO, he enables them to pursue a career, facilitates access to microcredit, and encourages resource-pooling.
One goal of the virtual outbound effort was to enhance the capabilities of the UPWD leadership team. This was achieved by providing crucial skills, knowledge, motivation, and resources, using a train-the-trainer approach. The team was equipped with skills to mobilize and manage resources, monitor and evaluate project milestones, and effectively deliver lessons to TUGAD-SACCO participants.
The virtual effort also consisted of a series of interactive training sessions that addressed key aspects in disability employment, drawing on US best practices in this field (see Figure 1). Examples of training topics included person-centered approaches in disability employment, job skills support and accommodation strategies, self-employment and entrepreneurship, business partnerships, and business growth and sustainability, among others. Personalized consultations with selected key informants from Uganda complemented these training sessions.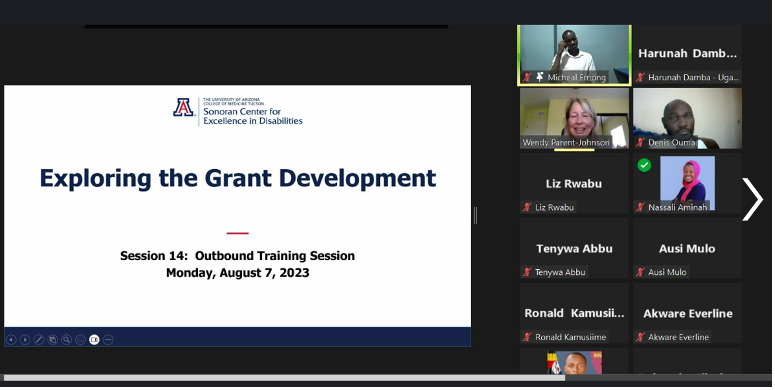 Before the training, Wendy, Harunah and his team met virtually to identify specific topics and areas of need, which guided the development of the training content. Reflecting on the implementation of this outbound effort, Wendy emphasized the benefits of the virtual platform, notably its capacity to connect and engage participants regardless of geographic limitations. The insights Wendy and Harunah gathered from participants during each session proved invaluable and enriched the depth and application of the training content. Additionally, the discussions during the training sessions provided a space for participants to share their experiences, challenges, and innovative solutions and enhanced their individual knowledge and understanding within the field.
Through their efforts, Wendy and Harunah made a significant impact, as evidenced by the positive remarks from the training participants (see Figure 2):
"My expectations were outmatched by the wealth of knowledge and expertise exhibited by close to a dozen resourceful facilitators drawn from various backgrounds." – Denis Ouma

"Through the virtual Outbound experience, I've unlocked a wealth of insights and transformative takeaways." – Alex Ogwal

"The Outbound series hasn't only expanded my understanding of inclusive startups but has also led me to reflect on my background." – Andrew Ebotu Jr.
Equally important was Wendy's and Harunah's commitment to dedicating time to integrate their expertise into a training modified for the participants' framework and cultural context. Harunah's expertise and experience were important for bridging gaps in translation and facilitating smooth communication. Serving as the liaison, Harunah ensured that everyone understood the information from both sides, drawing from his personal experience of living in Uganda to provide valuable context. Wendy's previous experience as an Outbound Fellow visiting Tanzania gave a frame of reference for understanding the systems and practices supporting people with disabilities as a foundation to interpreting information during this Outbound opportunity.
This virtual outbound collaboration greatly impacted Wendy. She shared:
"Professionally, this journey has been a catalyst for significant growth, collaboration, and friendship. The insights shared by the participants have profoundly expanded my global perspective, particularly as someone deeply invested in disability employment. Their firsthand experiences, challenges, and innovative ideas have not only informed my work but also invigorated my commitment to advocating for inclusive employment opportunities across borders."
The success and lessons from this outbound project inspired Wendy and Harunah to connect with people globally and make lasting changes. Together, they will continue to seek resources and individuals who can inspire, motivate, and guide them on this journey. They are also grateful to the Professional Fellows Program for making this collaboration possible.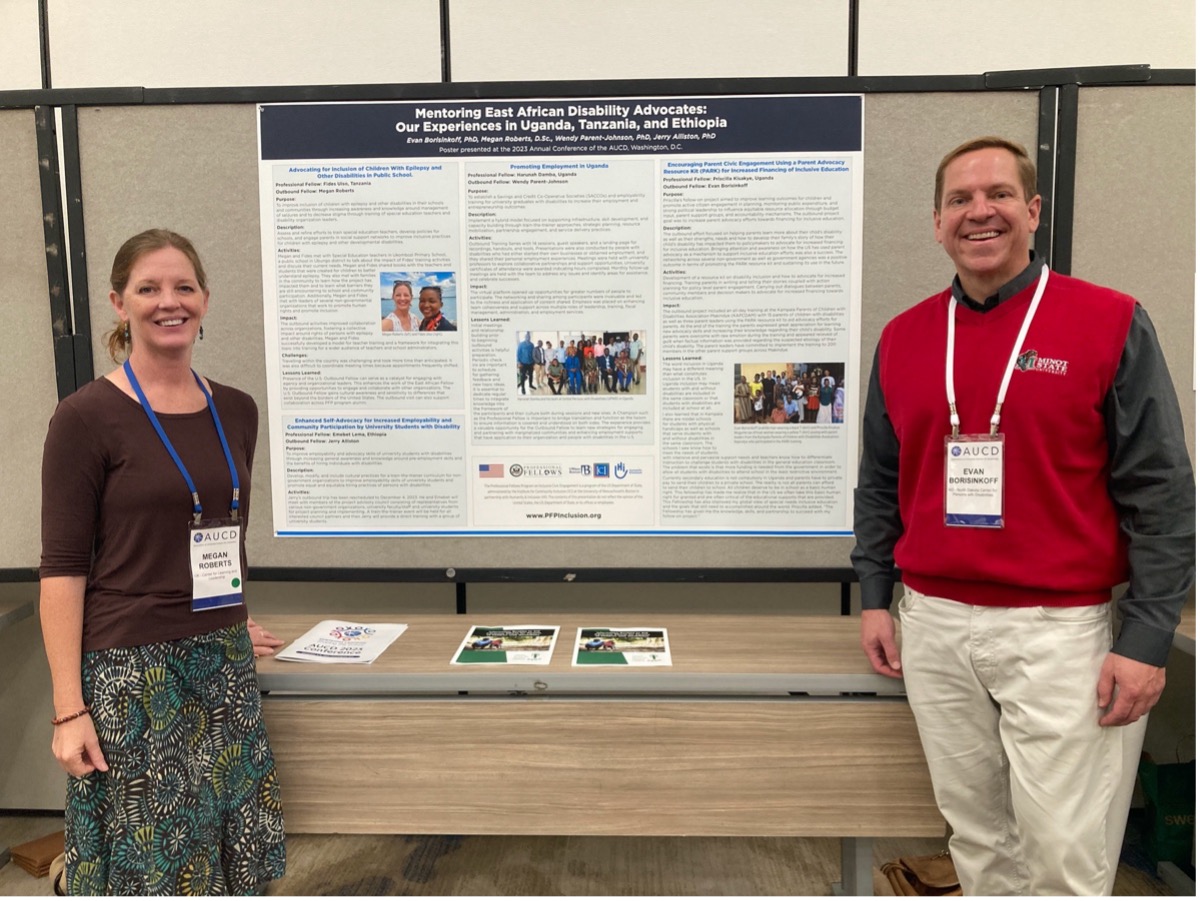 ---