Inclusion Of the Excluded
Teopista Nannyanzi is a 2023 Fellow in the Professional Fellows Program on Inclusive Civic Engagement. This program is sponsored by the US Department of State's Bureau of Educational and Cultural Affairs and is administered by the Institute for Community Inclusion (ICI) at the University of Massachusetts Boston in partnership with Humanity and Inclusion (HI). The following blog post was written by guest author Teopista Nannyanzi.
My name is Teopista Nannyanzi. I am a disability rights advocate working with the Pan African Network of People with Psychosocial Disabilities (PANPPD), an organization advocating for the rights of people with psychosocial disabilities across the African continent. I also offer technical support to organizations targeting mental health advocacy in my country, Uganda.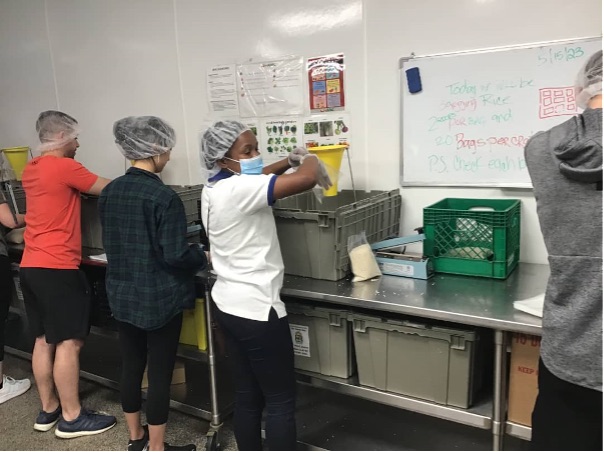 Teopista offering community service at Arlington Food Assistance Center.
I feel honored to be chosen for the PFP inclusive civic engagement program. I am curious to understand how the United States is advancing the issue of disability rights, especially around political progress. I am surprised by the diverse team of professionals for the 2023 PFP Spring cohort and greatly appreciated their feedback on my follow-on project: Eliminating Barriers to Political Participation and Representation of People with Psychosocial Disabilities in Uganda.
I am being hosted by the International Federation on Electoral systems (IFES) in Arlington, VA, under the mentorship of Rebecca Aaberg. At first, I felt anxious about the new faces and the office set-up. However, my mentor's welcoming and friendly attitude when she picked me up from the airport boosted my confidence and zeal to associate freely with individuals I met thereafter.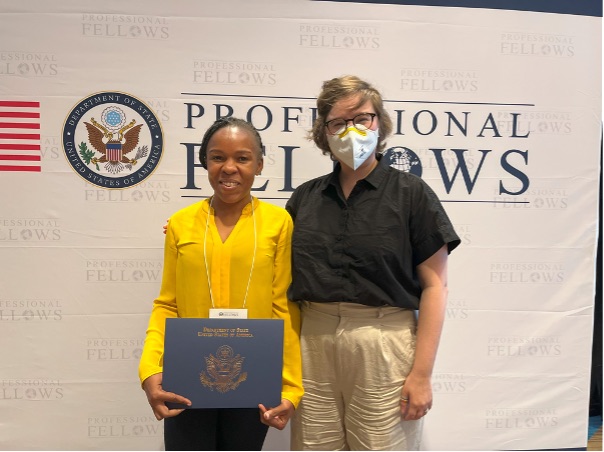 Teopista poses with her mentor, Rebecca Aaberg, at the PFP closing workshop in Washington D.C.
I was warmly welcomed at IFES and am grateful to understand how the organization influences political participation and representation of all without discrimination. On one call with the IFES Africa team, I learned about the disability supports that the organization provided to ensure disability inclusion in the political processes in Africa, including sign language, braille ballots, magnifying glasses, accessible voting booths, inclusive civic engagement messages, and the development of anti-corruption policies during the electoral process.
During my fellowship, I learned how to ensure political participation for people in Institutions. I hope to share this with fellow advocates upon my return to Uganda. I learned the importance of adopting a civic engagement module for Institutions using storytelling exercises. The context in this module is to target persons in institutions and encompasses issues affecting a diverse category of people including youth, refugees, women, and girls, as well as people from nomadic settings. Those who have lived in Institutions for a long time should first go through the background before embarking on the module. It is also important to develop guidelines in close consultation with persons in Institutions. Peer-to-peer methodologies are an effective mechanism to support youth coming out of Institutions to exercise their civic rights.
I have also had an opportunity to volunteer at the Arlington Food Assistance Center. I scooped rice in bags with all my energy and love. I felt this was a sincere way of giving back to the American community that has contributed to my professional development. I felt delighted seeing the sacrifices young people in America make to volunteer for the wellbeing of others, regardless of whether they know them or not. I also loved the organization's idea of feeding the neighborhood on a free basis, and hope that this could be adopted by the Uganda government and other well-wishers as this would help to curb hunger and death rates attributed to hunger.
Many thanks to my mentor Rebecca Aabarg and the entire IFES team for contributing toward the development of my career and follow-on project. I also thank all the individuals from the different organizations who sacrificed their time to engage with me.
---