Program Information
Are you ready to lead the next generation committed to inclusive civic engagement? Apply for the Professional Fellows Program on Inclusive Civic Engagement to discuss and plan inclusive civic engagement projects with other emerging leaders from Kenya, Tanzania, Uganda, Ethiopia, and the US.
Learn more on this page about what the program involves, the eligibility, key program activities, and available funding.
What is the Professional Fellows Program on Inclusive Civic Engagement?
The Professional Fellows Program on Inclusive Civic Engagement is a professional program funded by the US Department of State for emerging leaders in Africa to exchange and implement best practices for inclusive civic engagement. The program will support approximately 12 mid-career disability rights professionals (Fellows) from Kenya, Tanzania, Uganda, and Ethiopia to participate in a five-week Fellowship Program in Spring 2024 in the US.
What is Inclusive Civic Engagement?
Inclusive civic engagement is working to guarantee the equal rights and opportunities for people with disabilities to participate in civic life and society (Article 29 of the Convention on the Rights of Persons with Disabilities , CRPD).
In the US, civic engagement is a core strategy used by the disability community to advance the rights of people with disabilities. This idea is enshrined in the motto of the US disability rights movement, "Nothing About Us Without Us," which has been adopted by disability rights activists internationally. It calls for people with disabilities to be involved in decisions that impact them.
What does this Fellowship Program involve?
As a Fellow, you will learn approaches to inform your efforts to build and strengthen fully inclusive civic societies for people with disabilities in your country. The core of the program is an individual Fellowship with a US host organization. As a Fellow, you will select a key policy or practice issue related to disability and civic engagement in your country. This policy or practice issue will provide a focus for your individual Fellowship placement training and will inform the project that you will develop and implement upon returning home. This is called the follow-on project. The Fellowship training will also include weekly seminars, mentorship, and community service.
Begin your US Fellowship: Attend virtual sessions with program staff to prepare for your Fellowship experience and travel to the US.
Engage in your Fellowship: Work with your US host organization during your customized Fellowship placement. Exchange knowledge and best practices on disability inclusion across cultural contexts.
Develop a plan: Collaborate with US colleagues to develop an action plan for your follow-on project that you will implement upon returning home.
Attend the Professional Fellows Congress: Join and network with over one hundred Professional Fellows from around the world at a four-day conference in Washington D.C.
Sustain your project: After your Fellowship in the US, your US host mentor might visit you in your country to provide additional support with the implementation of your follow-on project.
From left to right, Fall 2022 Fellows Emebet G Lema, Alan H Onyango, and Fides P Uiso, sign language interpreter Jalia Namiiro, and Fall 2022 Fellow Harunah Damba in front of the White House in Washington DC.
Am I eligible for this Fellowship Program?
This is a merit-based competition open to candidates in Kenya, Tanzania, Uganda, and Ethiopia.
To apply, you must meet the following eligibility criteria. You must:
Be between the ages of 25 and 40, meaning at least 25 years old and no older than 40 years old, as of the first day of the Fellowship Program (May 8, 2024).
Be a citizen and resident of Kenya, Tanzania, Uganda, or Ethiopia.
Be eligible to receive a US J-1 visa, as far as you know. (Visit the US Department of State website for information about J-1 visas.)
Be proficient in spoken English.
Be proficient in reading and writing English*.
Have at least two or more years of professional work experience.
Be able to travel to the US for the duration of the five-week Fellowship Program. (Please see the program dates below.)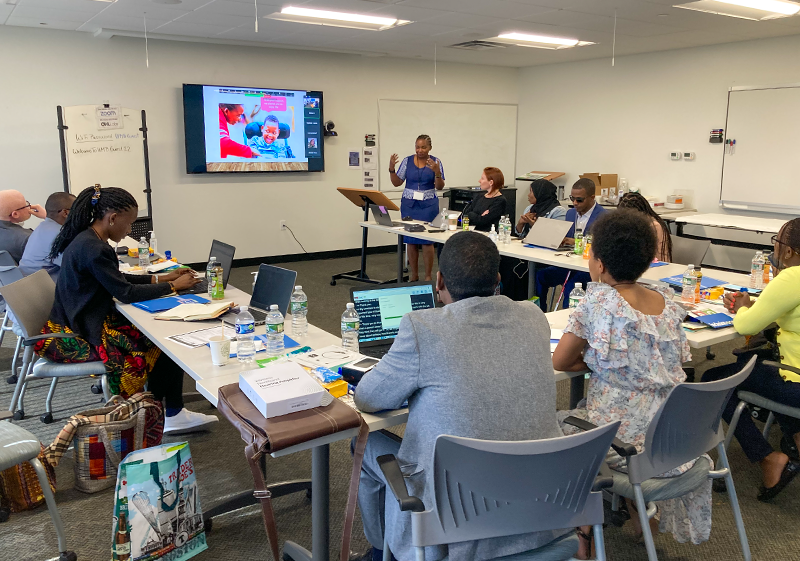 The Fall 2022 cohort listens to Fides P Uiso, a Fellow from Tanzania, present her follow-on project proposal at the orientation on September 30, 2022, at the ICI office in Boston.
*Please let us know if you use American, Kenyan, Tanzanian, Ugandan, or Ethiopian Sign Language. We will provide American Sign Language (ASL) interpretation or cover the cost for arranging interpretation in any of the other sign languages.
For more information and to check if you are eligible to apply, please review our Fellowship Eligibility Checklist [PDF].
We encourage individuals from diverse backgrounds, including individuals with disabilities, to apply. If you need an alternative format (e.g., Braille, electronic, large print) of the application form, please contact [email protected]
When does the Fellowship Program begin?
The Fellowship Program will begin on approximately May 8, 2024, and end on approximately June 13, 2024. Note that Fellowship start and end dates may be subject to slight changes.
The Fellowship training will be in-person in the US, unless otherwise specified. If COVID-19 or related travel restrictions occur, we will conduct the program virtually.
Key Program Activities
Submit your Fellowship application
Program staff screen and interview candidates

Fellows are selected for the program
Program staff match you with a US host organization whose expertise aligns with your proposed follow-on project

Fellows are assigned a host mentor for the duration of the Fellowship
Host mentors draft a Fellowship placement training schedule for Fellows
Program staff arrange living accommodations for you in the US

Program staff will arrange your accommodations to meet any disability access needs
Participate in a Virtual Pre-Departure Orientation and Virtual Sessions
Learn about the Fellowship Program and life in the US
Prepare for your departure to the US
Learn from past Fellows about their Fellowship experiences and tips
Prepare a proposal for your follow-on project
Learn about your US Host Organization
Meet and get to know your host mentor via videoconference
Collaboratively review and refine the Fellowship placement training schedule
Travel to Boston and begin the Fellowship Program
Attend a Program Orientation in Boston
Meet program staff and get to know your peer Fellows
Present your follow-on project proposal and receive feedback from program staff, peers, and invited guests
Engage with guest speakers and learn about disability rights and inclusive civic engagement in the US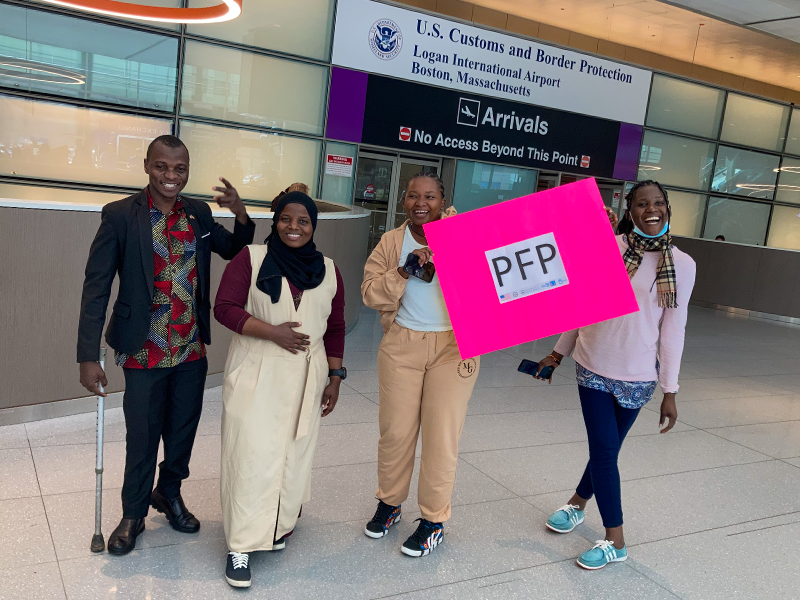 From left to right, Fall 2022 Fellow Harunah Damba, sign language interpreter Jalia Namiiro, and Fellows Fides P Uiso and (Tiba) Priscilla Kisakye celebrate arriving at Boston Logan Airport on September 29, 2022.
Travel to your US Host Organization and begin your Individual Fellowship Placement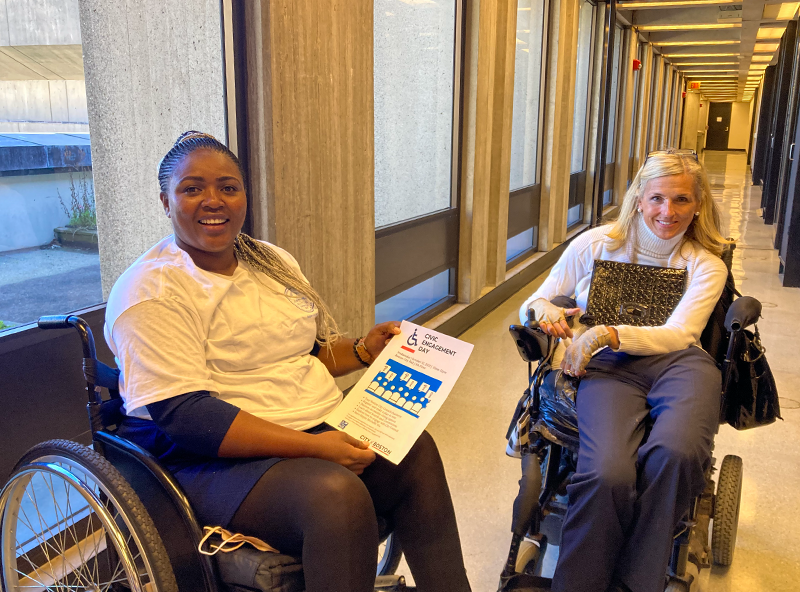 Kristen McCosh, Disability Commissioner for the City of Boston (right), meets with Fall 2022 Fellow Salome N Gitau from Kenya (left).
Spend four weeks at your designated US host organization
Work alongside your US colleagues and study policies and practices in inclusive civic engagement
Develop an action planfor your follow-on project with support from your host mentor
Participate in community service, volunteering, or similar activity
Engage in social and cultural activities
Attend Weekly Seminars during the Fellowship Placement Training
Participate in video conferences with other Fellows facilitated by program staff
Share experiences and lessons learned from Fellowship training and activities
Engage in peer mentoring and give and receive peer support
Hear from guest speakers who will address different aspects of inclusive civic engagement
Submit your application for an Outbound Host Technical Assistance Trip to your country
Collaboratively draft an application with your host mentor for a two-week trip by your mentor to your country to provide training and technical assistance. Note that Fellows and their host mentors are encouraged but not required to apply.
Program staff screen and evaluate candidates
US host mentors are selected for the technical assistance trip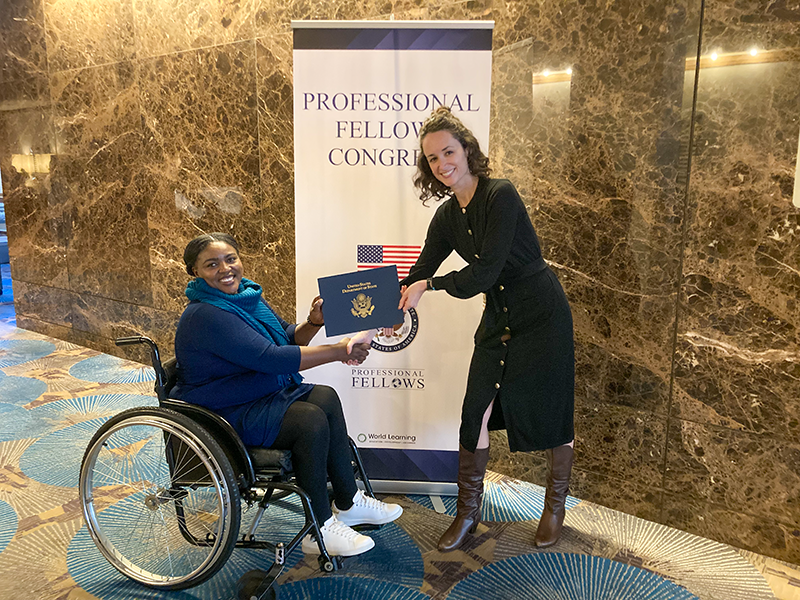 Program Officer Melissa Kirschner (right) presents Salome N Gitau (left), a Fall 2022 Fellow from Kenya, with a with a Certificate of PFP Program Completion.
Attend a Half-Day Program Closing Workshop & Awards Ceremony in Washington DC
Present your action plan for your individual follow-on project and give and receive feedback from US experts in inclusive civic engagement, US host mentors, peers, and program staff.
Attend a Four-Day US Department of State-sponsored Professional Fellows Congress in Washington DC
Meet with hundreds of other Professional Fellows from different countries who are participating in other exchange programs
Participate in professional trainings and discussions and learn more about how to carry out your project in your country
​​Return to your country and begin implementing your Follow-on Project Action Plan
Get connected to alumni from other US Department of State-sponsored Professional Fellowship Programs
Participate in alumni activities including peer mentoring and support
Participate in communities of practice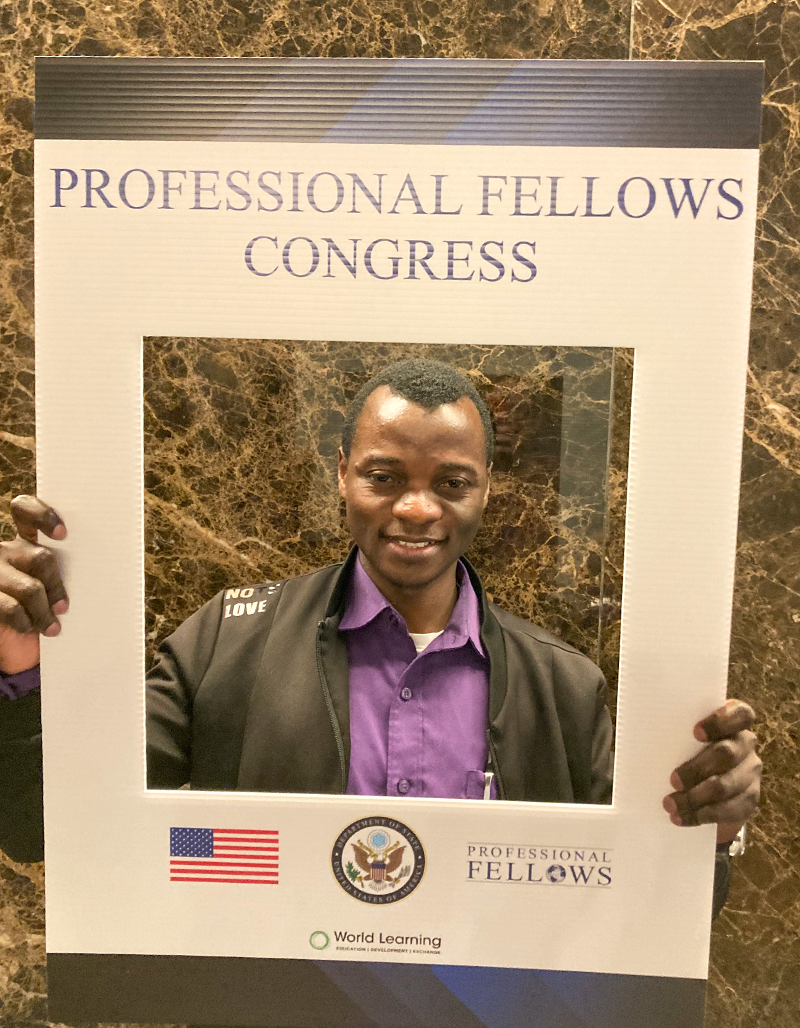 Harunah Damba, a Fall 2022 Fellow from Uganda, celebrates joining the Professional Fellows Congress in Washington DC.
Is there funding available?
As a Fellow, you will receive funding and support for:
Round-trip travel between home country and the US
Fellowship-related travel within the US
Travel interruption insurance
Accident and health insurance for the duration of the Fellowship in the US
Living accommodations in the US
Living allowance to cover meals, local transportation, and incidental expenses
Cultural allowance to spend on books and attending cultural events
Disability-related arrangements, if needed
An Internet hotspot
The call for applications for the Spring 2024 Fellowship Program is now closed. The call for applications for the Spring 2025 Fellowship Program will open in early 2024.