Hosting Professional Fellows
Are you interested in impacting the global movement for disability-inclusive civic engagement? Do you value sharing and exchanging knowledge and best practices with professionals from other countries? Do you enjoy cross-cultural dialogue?
Apply to the Professional Fellows Program on Inclusive Civic Engagement to host a Fellow from Kenya, Tanzania, Uganda, or Ethiopia! We are currently accepting applications for the Spring 2024 Fellowship Exchange. Apply by November 24, 2023!
Learn more on this page about what is involved in hosting a Fellow, the benefits of hosting a Fellow, who can be a host, how to apply to be a host, the host-Fellow matching process, and much more.
What is involved in hosting a Fellow?
We are seeking a limited number of US organizations to host the next African leaders in disability-inclusive civic engagement for a four-week Fellowship experience.
Fellows are mid-career professionals who have been selected through a highly competitive process, based on their passion and potential to drive change in their countries. We match Fellows and hosts whose professional interests and goals align to ensure a meaningful exchange. We believe this will provide opportunities for cross-cultural exchange and development of an impactful follow-on project.
When Fellows apply, they identify a key policy or practice issue related to disability and civic engagement in their countries. This policy or practice issue will provide a focus for Fellows' individual Fellowship placement in the US and will inform the project that Fellows implement upon returning home. The project Fellows implement at home is called the Follow-on Project. During the US placement, Fellows develop an action plan for their follow-on project with input and guidance from their US host and colleagues.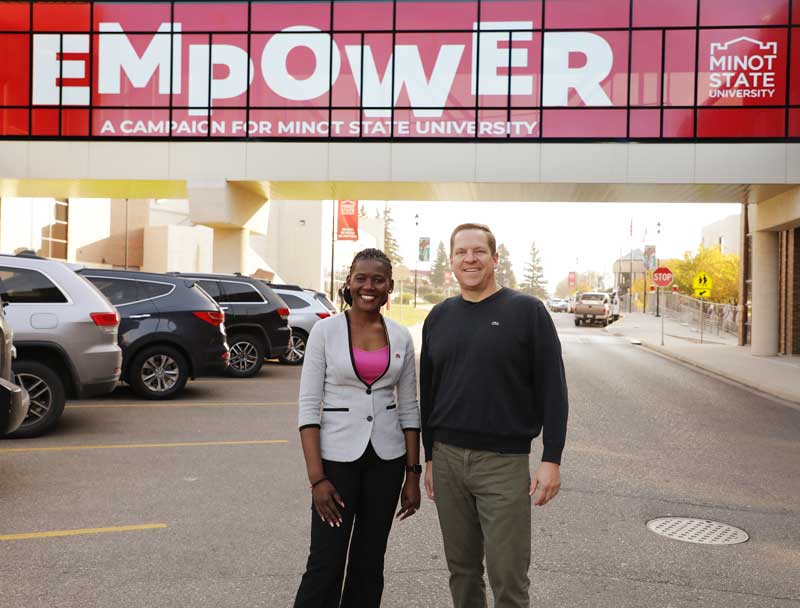 Fall 2022 Fellow Priscilla Kisakye from Uganda (left) with her US Mentor, Associate Professor Dr. Evan Borisinkoff (right), posing outside on the campus of Minot State University in Minot, North Dakota. Photo by Richard Heit.
Once we have matched Fellows and hosts, hosts will devise a Fellowship schedule with input from their respective Fellows. The schedule will include a variety of in-person activities. We will share a template schedule with hosts that lists the different types of activities that Fellows should engage in. We will also share some sample schedules.
At the end of the Fellowship experience, hosts can apply for an outbound exchange to travel and be hosted by their Fellows in their countries.
What are the benefits of hosting a Fellow?
There are significant benefits of engaging in international disability work! By hosting a Fellow from Kenya, Tanzania, Uganda, and/or Ethiopia, you can:
Expand your network and meet professionals with similar interests
Learn about disability-inclusive civic engagement policies and practices globally
Explore new opportunities for collaboration on shared issues and topics
Build relationships with foreign institutions affiliated with the Fellows, including universities and disability-focused non-governmental organizations
Internationalize your disability work, research, and practice
Engage in cross-cultural dialogue and exchange
Promote your institutional expertise on the international stage
Make a positive impact on inclusive civic engagement in Africa
Will hosts have the opportunity to travel to their Fellows' countries?
We will select approximately five hosts to travel to their Fellows' countries (after the completion of the US-based Fellowship) for a two-week period during which hosts will provide additional training, mentoring, and technical assistance to their Fellows. This is called the Outbound Exchange. The outbound exchange is optional. Interested hosts can apply. This is a competitive selection process based on the merits of the application.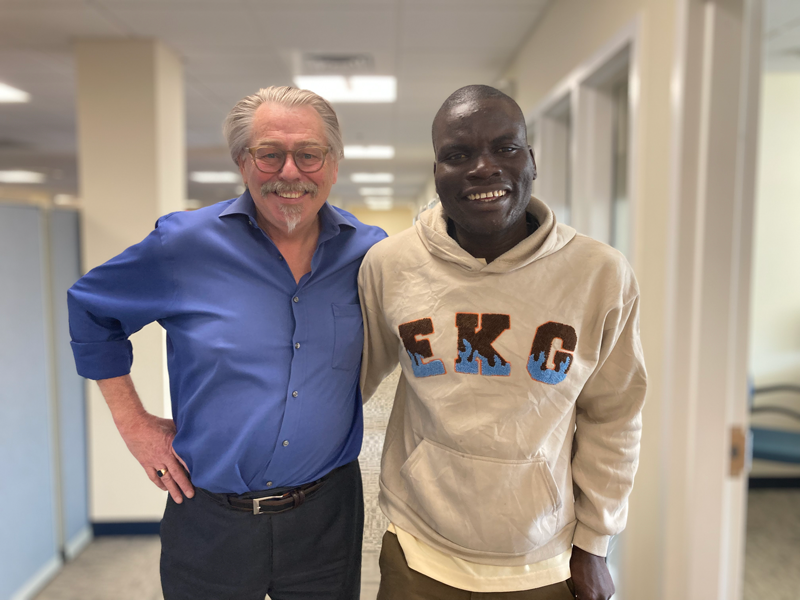 Spring 2023 Fellow Rashid Kalule from Uganda (left) with his US Mentor Steven Aalto (right). Mr. Aalto is the Vice President of Employment Services at Work Inc. in Dorchester, Massachusetts.
Who can be a host?
We are looking for organizations such as universities, disability organizations, civic organizations, non-profit organizations, and government agencies that have expertise in disability inclusion policy or practice.
Organizations must be able to provide a working environment as well as supervision and mentorship in a specialized area related to inclusive civic engagement for four weeks.
What am I responsible for as a host?
Hosts are responsible for the following:
Identify and designate a staff member to serve as a mentor to the Fellow
Provide in-person supervision, training, and work experiences that support the development of the Fellow's knowledge of inclusive civic engagement
Arrange a one-hour volunteer or community service activity for the Fellow
Give advice on the development of the Fellow's action plan for a follow-on project
Provide a workspace with computer and internet access for the Fellow
Assist in organizing (but not pay for) housing for the Fellow for the duration of the Fellowship
Provide access to events that expose the Fellow to US society and culture
How can I apply to be a host?
The application period for host candidates for the Spring 2024 Fellowship Program is now closed. The call for host applications for the Spring 2025 Fellowship Program will open in the fall of 2024.
Do you still have questions? Read our Host Recruitment flyer for everything you need to know about hosting a Fellow!